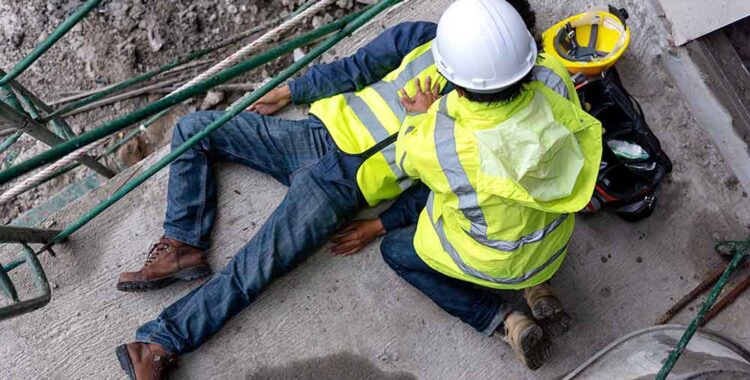 Can I File a Claim for a Back Injury at a Westchester Construction Site?
The answer is "yes" — if you want to file a claim for a back injury that resulted from working at a Westchester construction site, you are entitled to workman's compensation, and need to file quickly.
The construction accident attorneys at Barovick Law, in White Plains, are here to help you do that. You need to focus on healing your back. We will focus on getting you paid.
What is My Next Step After My Back Injury?
You are a hard worker, just trying to do your job on a daily basis. Unfortunately, what sometimes comes with that job is risk of injury. That is where worker's compensation comes in, and yes, your back injury should be covered.
After seeking the necessary medical help for your back injury, your first step in recovering wages for lost time at work and receiving help with your medical expenses incurred due to the work-related injury is to file a claim. A claim simply means you are stating that a work-related injury has happened, and you need to be compensated.
Filing a claim may sound simple enough, but as with most things concerning the law, there are many details to be covered to be sure you and your family are protected. It is best to connect with a construction accident attorney to help you file that claim, and begin the process of recovering lost wages and assistance with medical bills if necessary. At Barovick Law, we specialize in construction job site injuries. Acquiring our services is an important first step in you acquiring your workman's compensation.
Will a Back Injury Be Taken Seriously?
Yes, of course. A back injury can easily range from minor to severe. In an industry such as construction, your back is at great risk. So yes, your back injury will be taken seriously.
As a construction laborer, you are climbing ladders, often putting you far enough off the ground, without a safe place to land should an accidental fall occur. You are lifting heavy tools and equipment, causing strain on your back. There isn't a lot of sitting down while working on a construction job site. You are on your feet, moving, lifting, and bending constantly. All of this physical labor takes a toll on your back.
Your work-related back injury needs to be acknowledged. All states, including New York, have set up a "no fault" workman's compensation policy, which simply means… if you are injured while working on the construction job site, you are not to blame. The injury itself is the concern, and how it is and will be affecting your life. Loss of time at work, because of your back injury, means loss of wages. Medical expenses which are unavoidable with a back injury, such as doctor's visits, x-rays, hospitalization, medical equipment, surgery, or physical therapy, add up quickly. Those costs need to be recovered for you and covered in the future.
You Can Count on Barovick Law to Take You Seriously
At Barovick Law, construction accident attorneys, we feel your pain. We respect the fact that you get up daily to work on a construction site that may be improving our community and quality of life. We understand that the labor required of a construction worker is not easy labor. It comes with great risk. Thankfully, those risks have been considered, even before you were injured on the job.
Worker's compensation has been put into place to protect you. We want you to focus on healing and getting your life back to normal, even if it means a "new normal." If you are suffering from a back injury due to a construction accident in Westchester, it has probably already taken enough of your time and money. It is time to recover that money and get that lost time back for you. We can't turn back the hands of time, but we can work hard for you so you can move forward, healing your back, and getting on with your life.
Call us today and let's get you the compensation you need and deserve.