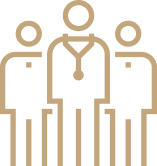 Medical Malpractice
WHAT IS MEDICAL MALPRACTICE? 
Medical Malpractice is when a doctor fails to provide proper care to a patient, and that failure results in serious illness, serious injury or death. Medical malpractice is negligent medical care, and it can occur at any stage of treatment. Our Westchester County malpractice attorneys can help you seek compensation for most medical negligence cases ranging from misdiagnosis to surgical errors.
Consider the example of a woman with breast cancer. Her gynecologist may have failed to notice telltale lumps in her breast during a physical examination. Her radiologist may have failed to notice signs of cancer that should have been evident on her mammography films. Because of this, her cancer is not diagnosed as early as it could have been, when treatment would have been most effective. The medical malpractice at this point is the failure to timely diagnose and treat the breast cancer. Such a breast cancer patient may require surgery, such as a mastectomy or lumpectomy. The surgeon is obligated to pinpoint exactly where the cancerous tissue is located in the breast, so that he removes only what must be removed: nothing more, and nothing less. If he is careless in his preparation for and execution of the surgery, so that cancerous tissue is left behind, or unnecessarily large amounts of tissue are excised and cause deformities, that amounts to medical malpractice, and the woman who has been victimized may seek appropriate compensation from the doctor.