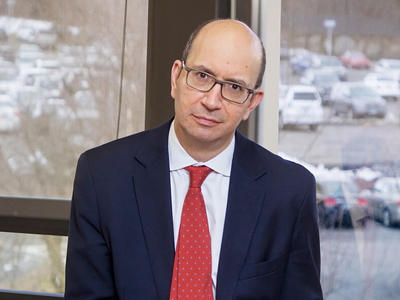 Andrew J. Barovick
Biography
When the stakes are high, you want lawyers that have the experience and the passion to win. Andrew J. Barovick has been practicing law for over 25 years. Mr. Barovick devoted the early parts of his career to public service, where he helped victims of crime achieve justice, and learned the courtroom skills necessary to be a forceful advocate on behalf of his clients.
Attorney Barovick went on to work for big firms, where he gained additional, valuable experience, but also saw that clients were treated as "files" that could be handled by any one of a number of lawyers. The clients felt undervalued, and the various lawyers had to read up on each client's file every time they needed to do anything of substance with their case. This wasted the lawyers' time and frustrated the clients.
When Andrew Barovick decided to create his own firm, he had a different vision. He would treat each client like an individual; he would be selective in taking on new cases, limiting the number of them that are active at any one time, so that no client would feel "lost in the shuffle"; he would always have highly-trained legal assistants available to help his clients if he were busy and he would strive to distinguish himself by working hard, being prepared, and presenting judges and juries with every available argument and piece of evidence in support of his clients.
Mr. Barovick has worked to achieve his vision. He has obtained significant recoveries for his medical malpractice and personal injury clients. Contact Andrew Barovick at 212-861-2800 or info@barovicklawny.com to see if he can help you.
Mr. Barovick is a graduate of Columbia College and Cardozo School of Law. He began his legal career at the Queens District Attorney's Office, where he tried over 20 felonies to verdict, and argued an equal number of appeals before the Appellate Division, Second Department, the New York Court of Appeals and the United States Court of Appeals for the Second Circuit.
Upon entering the private sector, he worked for several insurance defense firms, focusing on the defense of medical malpractice cases. He left the defense side to work for Steven E. North, P.C. as a plaintiff's attorney, and after several years left to start his own firm, Barovick Law, P.C., which focused on plaintiff's medical malpractice and personal injury law. He has tried medical malpractice cases on behalf of defendants and plaintiffs.
Mr. Barovick teaches trial advocacy at Cardozo School of Law's annual Intensive Trial Advocacy Program, has written and lectured for NYSTLA's Decisions Continuing Legal Education (CLE) program, and is the creator and principal author of The New York Medical Malpractice Law Blog. Through the City Bar's Medical Malpractice Committee, he has been active in the writing and presentation of related CLE programs for several years.
You may also be interested in:
Andrew Barovick Advocates Proper Education
Volunteering Helps Communities in Many Different Ways
Everyone Can Make a Difference
The Importance of Inclusion in Today's World