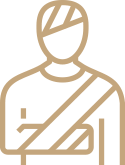 Personal Injury
When someone suffers an injury due to the negligence of a person, governmental agency or a corporation, the injured person may well be entitled to monetary compensation. In essence, negligence is a failure to use appropriate care under all the circumstances. In order to make out a negligence case, the injured person must also be able to prove that the negligent person knew or should have known about the negligent condition, but failed to fix it.
When the carelessness and negligence of an individual or a corporation cause serious physical injuries to a person, the injuries may permanently impair and alter the person's quality of life. This negligence may arise from a defective product or drug that a manufacturer offers to consumers. This negligence may arise from a property owner who fails to maintain his property in a reasonably safe condition. This negligence may arise from negligent operation of a motor vehicle or heavy machinery. Serious physical and emotional injuries may even arise from official misconduct, false arrest or false imprisonment.
At Barovick Law, P.C., we also prosecute civil cases on behalf of plaintiffs for claims arising from false arrest and false imprisonment, negligent supervision, and inadequate security. Our experience has shown that the parties at fault are prepared to invest significant sums of money and time to defend these claims to avoid being held accountable. However, we have the experience, the skills and the resources necessary to secure fair and reasonable compensation from those at fault for serious physical or emotional injuries. Whenever the party at fault refuses to offer a reasonable settlement, we are well prepared to take your case to a jury to get fair and reasonable compensation for you. We have won jury verdicts and have settled cases resulting in awards and payments of millions of dollars.